Click here if you are having trouble viewing this message.
Funding your future 
Join our online events on Thursday 9 November to learn about our plans for future success. 
Our sector chairs will take you through the past year and how we've met the priorities levy payers set via last year's Shape the Future vote, highlighting the successes we've achieved.  
We will also look to the future and how a proposed rise in the levy will be used to benefit your sector and the industry. 
Each event will end with a live Q&A session where you can ask questions directly to the sector chair and the panel. You can also submit questions in advance.
Book a place and ask your questions at our online event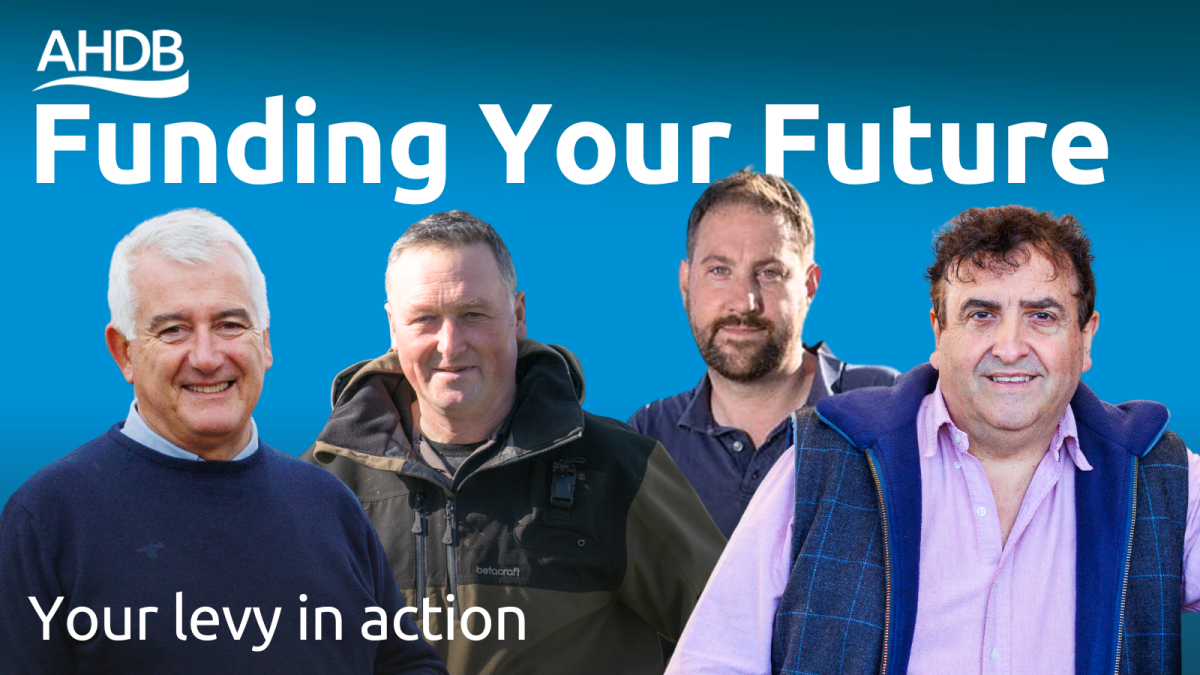 Roots to Resilience – get ready for a better future 
Farming is changing and you want to know the best way to move your business forward. Our new Roots to Resilience programme will equip you with the knowledge, tools and skills to identify your business aims and plan future goals.  
The programme starts with a three-day workshop on 13–15 December. All places at this event have sold out but you can still join our waiting list should places become available. The ongoing Roots to Resilience programme is, however, available to all levy payers and will include future events, with the first one taking place in January.  
Make sure you're following our social media channels and that you are subscribed to receive our emails for news and updates. Find out more about the programme by listening to this podcast.

AHDB ready to support discussions over future of farm assurance
We are ready to support discussions over the future development of farm assurance to ensure there is confidence in the way standards are being set and that they deliver value to all. 
This follows reactions to Red Tractor's Greener Farms Commitment module, which has been proposed to be introduced on a voluntary basis from April 2024. 
Veterinary Attestation Numbers
From Wednesday 13 December 2023, all farmers who produce livestock or livestock products destined for the food chain, and which may be exported to the European Union, will require proof of an annual veterinary visit. This visit will generate a 20-digit Veterinary Attestation Number (VAN), issued by the practising vet, which must be included on movement licences.   
Proof of participation in a relevant assurance scheme, such as Red Tractor, Quality Meat Scotland (QMS) and Farm Assured Welsh Livestock (FAWL), can also be used as proof of meeting the requirements, and farmers of species covered by these schemes do not require a separate VAN. 
National beef evaluation carcase trait EBVs available through Signet
Since 2018, we have published the National Beef Evaluations, providing estimated breeding values (EBVs) for all breeds and crossbreeds of cattle. This enables breeders to select animals for improved carcase and maternal traits.  
However, as most pedigree breeders get their breeding information from the breed society database, Signet will now share this information alongside breed society evaluations. The aim of this is to help pedigree breeders use all available data to select the best breeding animals for their herd.  
Find out more and explore the new traits that will be listed
Updated Slurry Wizard tool
Our Slurry Wizard tool has been updated to improve the user experience, as it is required for round two of Defra's Slurry Infrastructure grant application. 
The tool enables you to work out your slurry storage requirements and explore different scenarios to make sure you comply with regulations, including Silage, Slurry and Agricultural Fuel Oil (SSAFO), Farming Rules for Water, the Control of Agricultural Pollution (Wales) and Nitrate Vulnerable Zones (NVZ). 
Find out more about the updates and Defra's Slurry Infrastructure grants
Strategic farmer reaps rewards from grassland management changes  
Adrian Coombe of Dupath Farm in Callington, Cornwall, has come to the end of his time as an AHDB strategic farmer. It has been a successful programme that he will continue to benefit from for many years. 
Some of his successes include: 
More than halving fertiliser use on farm 

Producing clamp silage with a protein level of 14.2% and a DM of 10.4 MJ/kg 

Reducing finishing times of cattle by six months

 
Leader in the limelight: Angus Nelless   
In this AgriLeader feature, we profile leaders from across our industry. We ask them probing questions to find out what makes them tick and how they've become the leaders they are today.
Last month, we caught up with Angus Nelless, who operates a thriving 700-hectare farm with Signet-recorded Lleyn ewes and Aberdeen Angus x Hereford suckler cattle. 
Abattoir and processor news
After reviewing our newsletters, we're bringing our abattoir and meat processor newsletter into Beef & Lamb e-news so you'll get updates and the latest meat processing news more often. Look out for abattoir and meat processor news and updates over the coming months 
Exports
Union flag, British red meat and dairy shine at Anuga   
In October, Anuga, the world's leading food trade fair, proved to be the ideal platform for levy payers to connect with international buyers, build new relationships and expand their presence in the global market. 
This year, 13 red meat and 14 dairy exporters joined us on our Quality Meat from Britain Pavilion at the event in Cologne, Germany. 
Find out more about our activities at Anuga and listen to our podcast, recorded live from the event
British lamb export opportunities discussed on Kuwait trade mission
Our recent trade mission to Kuwait enabled UK exporters to explore opportunities for British lamb in the Middle East, including the halal sector. 
Ten delegates joined us to set up partnerships with local companies and importers, promote sustainable British lamb and discuss how it can perfectly complement Kuwaiti cuisine. 
Find out more about the mission
UK red meat takes centre stage in the USA 
This week, Dr Phil Hadley, International Trade Development Director, is speaking at the Meat Import Council of America (MICA) Conference and promoting UK beef, lamb and pork to an audience of key industry buyers. 
You might have missed
Five top tips for stress-free cattle handling 
Well-designed cattle-handling facilities make handling more efficient and help reduce stress and injuries. World-renowned scientist and animal behaviourist Dr Temple Grandin recently shared her top tips on designing new or adapting existing cattle-handling facilities to ensure they are stress-free. 
Learn more about Temple's top tips for stress-free cattle handling
AHDB Chief Executive Officer Tim Rycroft, who's stepping down from his position at the end of the year, has been talking to podcast presenter John Bates about the changes to the levy board during his time in charge. 
Soil secrets with Joel Williams
Throughout November, we are holding a series of soil secrets events across England and Scotland with independent plant and soil health educator and consultant Joel Williams. The events focus on farmer-to-farmer networking, practical solutions and knowledge exchange, and will take place throughout November. 
We'll discuss steps that you can take to unlock additional profitability and resilience – from crop and sward diversification to plant and animal nutrition. 
Winter bale grazing (Northumberland)
Join us, alongside Pasture for Life and Innovative Farmers, on Tuesday 21 November for an on-farm discussion covering what you need to know about bale grazing. Find out how it could work for your farm as an effective way to cut expensive cattle-wintering costs. 
Calf pneumonia webinars
We're hosting a series of calf pneumonia webinars through November featuring industry experts and farmers to help you learn how to prevent the disease, reduce costs and lessen the impact on your teams. 
The first 200 levy payers to register can choose to receive a delegate pack containing a thermometer, calf thermometer, new calf-housing guide and a calf health scorecard. 
Find out more and register for the webinars
British cattle-breeders' conference
The theme for the next conference is 'Green genes – revolutionising cattle breeding for a sustainable future'. The conference will take place on 22–24 January 2024 at the Telford Hotel & Golf Resort in Shropshire.  
Find out more about the conference


AHDB, Middlemarch Business Park, Siskin Parkway East, Coventry CV3 4PE
T  0247 669 2051
To ensure you continue to receive this information please notify us of any change to your email address by responding to this email.
While the Agriculture and Horticulture Development Board seeks to ensure that the information contained within this document is accurate at the time of broadcast, no warranty is given in respect thereof and, to the maximum extent permitted by law the Agriculture and Horticulture Development Board accepts no liability for loss, damage or injury howsoever caused (including that caused by negligence) or suffered directly or indirectly in relation to information and opinions contained in or omitted from this document.
You can read our privacy notice here.  
AHDB, Middlemarch Business Park, Siskin Parkway East, Coventry, CV3 4PE, UK
To unsubscribe from AHDB communications or to manage your preferences please click here.
© Agriculture and Horticulture Development Board 2023. All rights reserved.